Our Veterinarians
The Animal Care Clinic West & Metro Cat Hospital team of skilled veterinarians welcomes you to our practice, proudly serving the West Des Moines area. At Animal Care Clinic West & Metro Cat Hospital, it is our daily privilege to provide quality vet care to your cherished pet, with compassion and competence. We hope to ensure a positive impact on our patients, pet owners and the local community.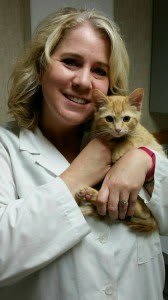 Kim Bollinger, DVM
Dr. Bollinger grew up on a farm in northern Iowa. Her passion for animals started at a very young age. She always looked forward to the veterinarian coming to the farm to examine her horses, dogs, and kittens and knew early on that this would be the perfect career for her.
Dr. Bollinger's special interests lie in the areas of internal medicine, geriatric medicine and patient pain relief. She enjoys laser surgery and performing ultrasounds as well.
After 3 years or practicing veterinary medicine in north eastern Iowa, Dr. Bollinger joined the staff of the Animal Care Clinic/Metro Cat Hospital in 2001. She is a graduate of Iowa State University College of Veterinary Medicine and The University of Northern Iowa. Dr. Bollinger did internships at the Henry Doorly Zoo in Omaha as well as the Kansas City Zoo. She had some amazing experiences working with exotic animals, even getting the opportunity to blow-dart a clouded leopard!
When Dr. Bollinger is not in the office treating her patients, she can be found reading, playing with her two dogs (Brix and Ivy), cheering for the Chicago Cubs and Iowa Hawkeyes, and going to her daughters' dance competitions, softball games and golf meets. She is married to her high school sweetheart, Jim and has daughters, Marah and Willow.
"I am so blessed to be to be a part of your pets' lives and to serve you. I promise to be your partner in keeping your pets happy and healthy. "—Dr. Bollinger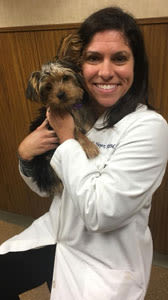 Michelle Heyer, DVM
Dr. Heyer didn't always know she wanted to be a veterinarian, but has always been interested in science, medicine and animals, so once the idea occurred to her it was a natural fit. She loves animals, but also the people that come with them and the understanding that a pet is an important part of a family and each family is unique and different.
Her passions include soft tissue surgery and dentistry - she enjoys the concept of taking things apart to put them back together again and marvels at the body's ability to repair itself through the surgical process.
Dr. Heyer practiced for 1 year in Nebraska after veterinary school before relocating to Des Moines. She worked at a local practice for about a year before finding her place as an associate DVM at AMC/ACCW where she has practiced for the last 9 years. She graduated from St Louis University in St Louis, Missouri in 2002 with a BSN in Biology and went on to get her Doctorate of Vet Med at University of Missouri - Columbia where she graduated in 2007.
Originally from Lake Ozark, Missouri, Dr. Heyer enjoys boating, swimming and skiing and finds her happy place in the sunshine with water nearby. A favorite family past time is playing frisbee with their water-loving labrador, Kona (who is claimed to be the best behaved member of the Heyer family). Outside of caring for her patients and their families, Dr. Heyer enjoys traveling with her family (husband, Nathan and their two children, Riley and Quincy) and experiencing new cultures and foods. Dr. Heyer has traveled to 49 of 50 states with many international experiences as well.
"One of my favorite things about my job is exploring the individual and unique relationships that people form with their pets. My goal is to help lengthen and strengthen that relationship by providing individualized care to each patient that I see." - Dr. Heyer